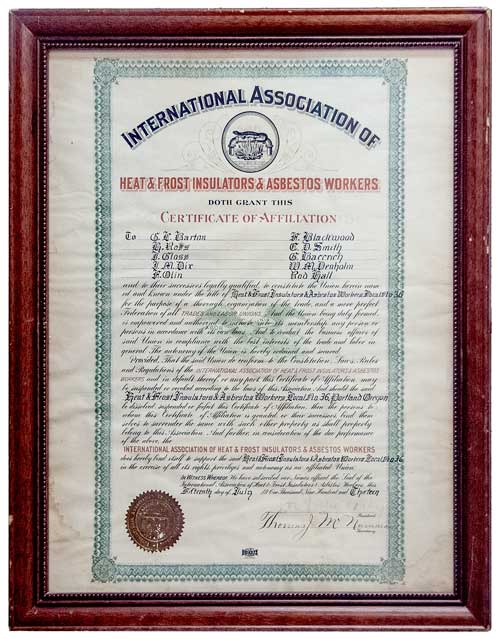 The History of Local 36 begins in the early 1900s when a small group of workers had a common goal to protect the rights of themselves and the contractors they worked for, and the foresight to protect these rights for future generations. Forming a Union had to be part of that goal.

International Association of Heat and Frost Insulators
and Allied Workers Local #36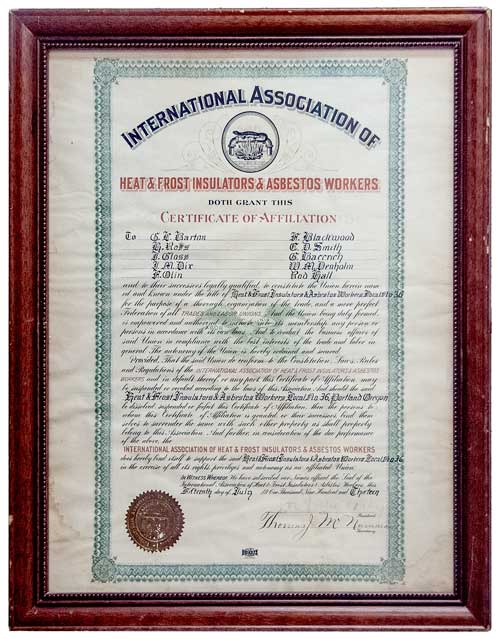 The first part of the goal was achieved on July 15th1913, by receiving a charter from the Heat and Frost Insulators and Asbestos Worker International Association. After forming Local Union #36, they started negotiating with the Contractors and winning better wages and working conditions, and after many years of negotiating with the employers, the first Health Coverage plan was established March 1st, 1951. A Health & Welfare Plan that covered the workers and their families and continues to this day. After another decade of negotiations, in 1961 a Pension Plan was created for our retirement, and most importantly we still work under Contract with our employers. Our contract includes some of the best wages and working conditions in the construction industry. At all times, working to better the lives of working men and women in all construction trades was the goal of our forefathers.
In the early years, our trade knowledge was handed down from father to son. All training was done on the job, new members working as Improvers with many hours of on the job training before moving on to Journeymen level. An applicant's entry into our Union was granted by a vote from the current membership. It was common to only accept applicants that had the same goals as the membership strived for. Working hard and working to leave our local in a better position than they themselves had started with. Through the years, we have evolved with the others crafts improving our union and our training. We now have a 4 year Apprenticeship training program, that is governed by the State of Oregon and is overseen by union members and contractors. Their goal is to turn out the highest quality Journeymen insulators in North America. Membership is now gained by an application through the Joint Apprenticeship Training Committee (JATC).
Every member has the opportunity to become the Local Union President, Vice President, and Business Agent, Business Manager, Trustee or Executive board member. These positions are the steering committee for our union. Over the years, there have been countless hours donated by men and women filling these positions, all focusing on the betterment of our Union for its members, and building a stronger future.
During World War II working to keep our military strong, we were part of one of the largest ship building yards in the country, turning out one Liberty ship per day. We had several hundred Insulators working in the Shipyards. Applying Asbestos containing materials was the work of these men and women day in and day out. Until the mid 1970s Asbestos was the insulation of choice for boilers and heating systems. During this decade, the truth came out and Asbestos was outlawed for application within our industry.
In the early 1980s, we formed a branch within our Union to start removing these hazardous asbestos-containing materials. These members continue today removing Asbestos materials from Boilers, Steam piping and heating systems. Along with ceilings, floors and walls of most commercial buildings built prior to 1975.
We have worked on almost all construction projects in the state of Oregon and SW Washington. Mainly following the mechanical trades, we have insulated mechanical systems in Schools, Hospitals, Commercial and High-rise buildings, Pulp, Paper, and Saw Mills for the changing world of the High Tech industry and all the support facilities that come with those High Tech facilities.
We have been members of the State Building and Construction Trades Council from its inception and have worked hand in hand with the other Building Trades Crafts. Working to build strength, unity and achieve professional quality on construction projects throughout our jurisdictions.
The Heat and Frost Insulators get very little recognition of what our industry actually does for our environment and economy. Our industry increases Energy Efficiency in manufacturing facilities, power plants, refineries, hospitals, universities, schools, multifamily housing and government buildings, which helps prevent the depletion of our natural resources such as wood, coal, oil and natural gas. This Mechanical Insulation efficiency also cuts down on Greenhouse gases that are destroying the world's atmosphere. Mechanical Insulation efficiency lowers fuel consumption, which lowers overall energy costs. Lowering this cost is a savings of tax money or consumer costs. This can then be passed on to members of our community. We have grown from an emerging group of men and women with a common goal to an invaluable industry in today's world. - WALT CAUDLE